Building cabinets appears like an incredible job to start with, however, if you take one step at one time you'll be amazed at how fast it is. Familiarize yourself with the ways by browsing books on woodworking and cabinet building prior to jumping in. Knowledge goes a long way in this trade.
If you wish to learn to make a cabinet, you need to already know about woodworking tools. Buy the finest tools within your budget, affordable tools usually break down faster bringing you a replacement cost. Make use of this checklist to ensure that you possess the basic equipment required to make cabinet. You'll need a number of tools to construct the cabinet so attempt to purchase them or borrow them from a buddy or neighbor.
Tape Measure
Square
Hammer
Clamps
Miter Saw
Jigsaw
Router
Circular Saw
Table Saw
Drill
Nail Gun
Sander
You should choose the material you'll use. Plywood is a good option for cabinets, and you'll make use of it both for the sides and the back and front. Plywood is a sold and stable material, and guarantees durability all the time. It's also very easily complemented with various sorts of decorative fronts.
Here is my list of wood species used in cabinet making.
Knotty Alder A red hardwood with a fine straight grain that is sometimes referred to as rustic alder. Mostly stained very dark.
Select Alder A red hardwood with a fine straight grain. Mostly stained very dark.
Ash A white hardwood with a prominent coarse grain. The best results are clear finish or a touch of brown.
Beech A pale brown to deep reddish-brown hardwood with tight grain. Normally a replacement for cherry or oak.
Birch A light yellow to reddish-brown hardwood with a grain just like oak. Stains can vary from clear to dark brown.
Cherry A light to dark reddish-brown hardwood with a fine grain. Mostly stained very dark.
Gum A deep reddish-brown to nearly white hardwood with a fine grain. Frequently finished in imitation of other woods.
Hickory A brownish to white hardwood with a tight prominent grain. Staining can be hard is the color variations are to be blended.
Maple A white to light tan hardwood with a straight-grain, sometimes curly, wavy, or bird's eye grain occurs. Staining can range from clear to very dark.
Oak A rich golden color to light reddish-brown hardwood with a pronounced open grain. Stain can range from clear to dark.
Poplar A yellowish-brown hardwood often tinged with green, grain is fine and straight. This is a paint grade material.
Walnut A light to dark chocolate brown hardwood with a moderately prominent straight grain. Stain can range from clear to dark.
Pine A white to pale yellow softwood with a fine straight grain. Stain can range from clear to dark.
Knotty Pine A white to pale yellow softwood with a fine straight grain. Stain can range from clear to dark.
Redwood A red softwood with straight fine grain. Mostly clear finish. Used for outdoor cabinet applications.
You must make certain that you sand the surfaces of the wooden boards so as to make certain they are smooth. Many people are inclined to paint them prior to actually building the cabinet; this is a great idea, however, you should try to paint them only after you have cut them in the right size. You don't have to paint huge boards, if you need just small ones.
Keep in mind that the most crucial step in making a cabinet is to measure the surfaces and components right, if you wish to build a sturdy and solid cabinet. Attempt to download one of the technical guides which exist online, featuring step by step guide on how to build cabinets by yourself.
Steps to construct a cabinet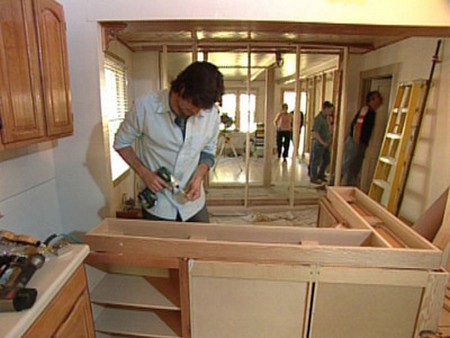 Step 1
Measure the space the cabinet will go in from floor to ceiling. We'll build an 8 foot tall cabinet that stands from floor to ceiling. The very best benefit with having such a tall cabinet is that you can store things you don't use frequently on the higher shelves.
Step 2
Cut the wood to the right size. Cut two pieces of wood to measure 8 feet tall and 3 feet deep. These two pieces are the side of your cabinet. Now, cut the top and bottom into 2 foot deep and 5 foot wide sections.
Step 3
Use wood screws and glue to secure the sides of your cabinet together to the top and bottom. Use about four screws on each side. Ensure the top and bottom pieces fit inside the side pieces of the cabinet. When you view the cabinet from the side perspective, you should not be able to see the top or bottom of the cabinet.
Step 4
The shelves should be places in at a distance of 18 inches apart. The extra shelves and space in your cabinet can be used for almost anything. You can place towels, linens and more inside your cabinet.
Step 5
Paint or stain your wooden cabinet to whatever color suits your d¨|cor and personal tastes. Allow the paint to completely dry. Once the paint dries, treat the cabinet with a sealer. This will protect the cabinet from moisture damage and rotting.
Step 6
Accessorize your new storage cabinet. You can use baskets, silk flowers and other small items to spruce it up. You can place items according to their use and convenience factor to you.
Step 7
Enjoy your new cabinet.
Many, even more advanced woodworkers, aren't actually sure what the exact steps of the assembly steps involved in building cabinets are, therefore I definitely suggest looking into the cabinet woodworking plans, right here! Other than that, as with all woodworking projects, supporting the screws with wood glue is recommended ¨Cbut not absolutely necessary; as a matter of fact, for true woodworking beginners it is even recommended not using carpenter glue. Rather, the mere screw and nail connection allows for more room for mistakes.  After assembly of the face frame and attaching the face frame to the carcass, you can then add doors, and "optional" false fronts and finish the job by adding knobs and hardware.