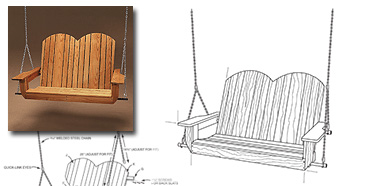 Kick back and relax with this fun-to-build weekend project. The smooth, gentle glide of the porch swing will keep you daydreaming for hours.
This project is designed with a unique suspension system made from ordinary 1/2″ black steel pipe (commonly used for gas piping). It slips through the swing frame to act as a cradle and to eliminate stress on wood joints. Eyebolts are fastened through the steel pipe and covered by soft rubber caps to prevent accidental scrapes. The swing assembly is then supported with a welded steel chain that is securely fastened to solid framing in the porch roof.
Skill Level: intermediate
In this woodworking project, you'll gain experience in working with templates to make shaped pieces and doing some complex and precise assembly. And after you build it, you'll learn more about applying and using finishes to protect the wood and keep it looking beautiful.
This 8-page pdf project plan from Miniwax, is well laid out, with a Shopping List, list of Tools Required, a Cutting List, step-by-step directions and some nice line diagrams to help you along.