Taking care of bees is one thing most people would not think about because it is an unpopular idea. However, you might want to take such into consideration because of the different things bees can do, such as aiding in pollination and the production of honey. In this case, if you are decided with the idea of taking care of bees, one of the first things you should think about would be the perfect bee hive plans. When thinking about the designs of bee hives, you will generally have three choices, and each of them will be explained briefly below.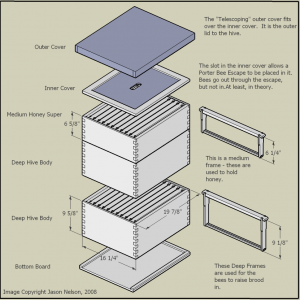 Top Bar Hive
Also known as horizontal top bar hive, this is considered to be the oldest amongst the bee hive plans available. In this kind of design, you will see a series of bars on the top, which also function as anchors for building honeycomb and roof for the protection of the bees. This is a popular design chosen by many people because it can be made even on your own without requiring too many financial resources. There are also versions of the product available commercially, which can be a good choice if you have a budget.
Warre Hive
This is considered to be the most modern amongst the bee hive plans available, which was invented in the 1900s by Emile Warre, a monk in France. His design was a result of experimentation with 300 other possibilities and has required effortful research and development before finally arriving at the perfect one. Warre hives are known for being easy to manage, effortless to construct, and providing a good thriving environment for bees to allow them to produce good honey. It is also a preferred choice because it is designed in such a manner that it mimics the natural environment of bees or the inside of a tree.
Langstroth Hive
This is the most common amongst the bee hive plans available and has been invented by Lorenzo Langstroth in the 1800s. This is most probably the design you will think of when you are looking for managed bee hives. One of the things making this bee hive most popular is the use of a movable frame. There is a box or a stack of boxes, which are filled with a wax foundation. Along with the continuous buildup of the colonies, there will be a need to add boxes on the top, which will allow upward continuous buildup. One good thing about this kind of beehive is the presence of standard designs, which means you will not need to be crafty when you need to replace its components as you can easily find them being sold in stores where bee hive plans are available.
Build your own honey bee hive using these free honey bee hive construction plans