Building a wooden bench is an interesting job,  This simple, but sturdy bench can comfortably seat three adults and will provide years of service.  You can build it practically for free with the materials laying around a building site or your workshop; I used some 2×4's left over from a building project plus some 1×12 boards that I purchased.  The required 6-foot pieces will fit in the back of a small hatchback car! 
Material List:
(3) 6-foot 2 x 4's for the bench frame.
(1) 6-foot 1 x 6's for the four bench leg braces.
(1) 6-foot 1 x 12 for the Bench Top.
(1) 3/4″ plywood and matching edging material, or hardwood (not pine as it will shrink and twist) 4′ x 4′ for the Bench Sides.
(1) 1/4″ plywood 2′ x 8′ for the bench top nailers.
Eight framing spikes to build the bench support box.  2″ nails to nail the  bench 1/4″ plywood lids.
1″, 2″ and, 3″ screws – about a 1/2 pound of each.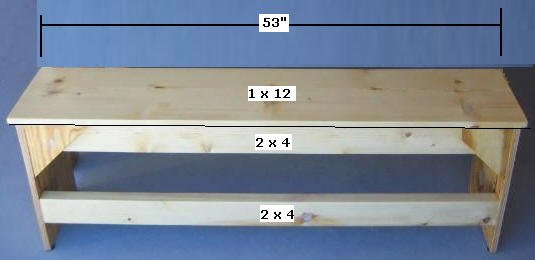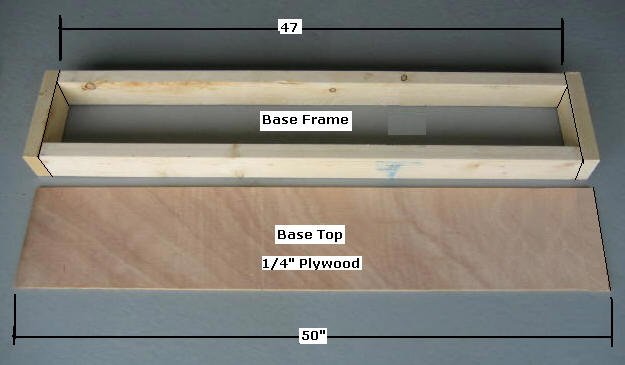 Step 1, Cut and Assemble the Bench Base Frame – Select the 2 x 4; cut two pieces @ 47″ and two @ 9 1/4″; assemble them with the framing spikes as shown above.

Select the 1/4″ plywood; cut a rectangle @ 9 1/4″ x 50″; nail it to the frame with 2″ nails as shown above.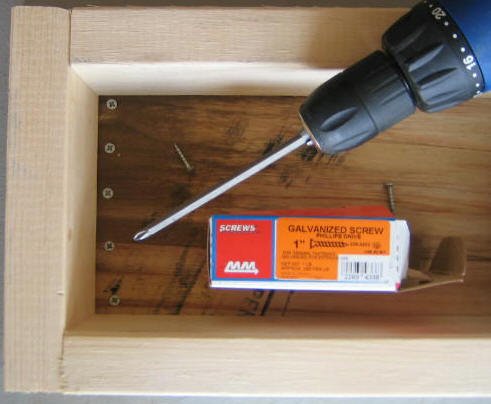 Select 1 x 12; cut 1 piece @ 53″ for the bench top board; attach it with 1″ screws through the bottom 1/4″ plywood nailer; allow a 3/4″ inch overhang on the front and back edges; allow 1 1/2″ on each end as shown below.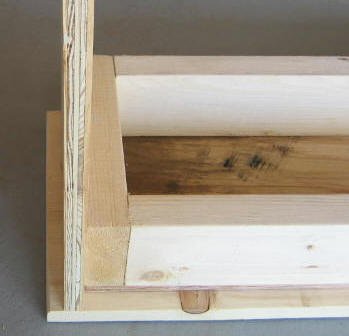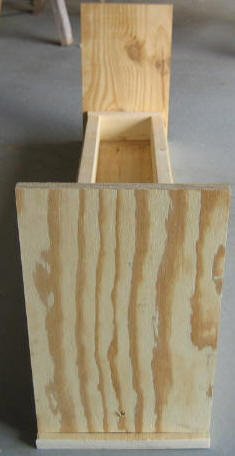 Step 2, Cut and Assemble the End Panels – Select 3/4″ plywood; cut two rectangles @ 11″ x 17 1/4″ for the bench end panels; attach each end with one 2″ screw into the 2×4 brace as shown above.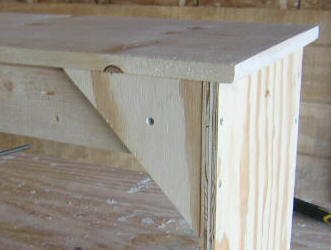 Select 3/4″ plywood or 1 x 12 pine; cut four right triangles @ 8″ sides for the bench end panel braces; attach each brace with four 2″ screws as shown above.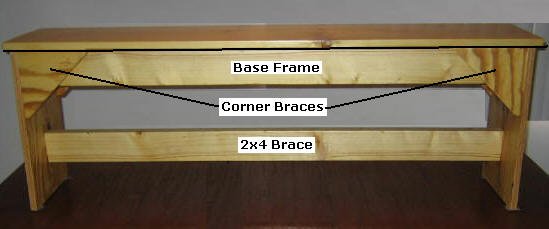 Select 2 x 4; cut it to 50″; measure four inches up from the floor and attach this rail on center between the two end panels with four 3″ screws as shown above.
Repeat the Bench building process until you have built all the benches required.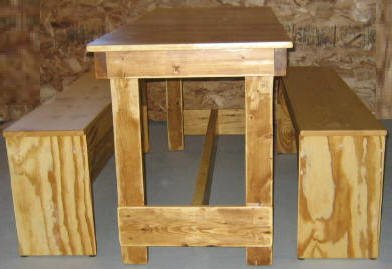 Use a filler to fill all the screw holes, sand Benches, prime, and paint/stain to suit; attach some felt pads to the bottom of the Bench Side Panels to protect any floors; now you are ready to sit and eat comfortably on your new Benches.