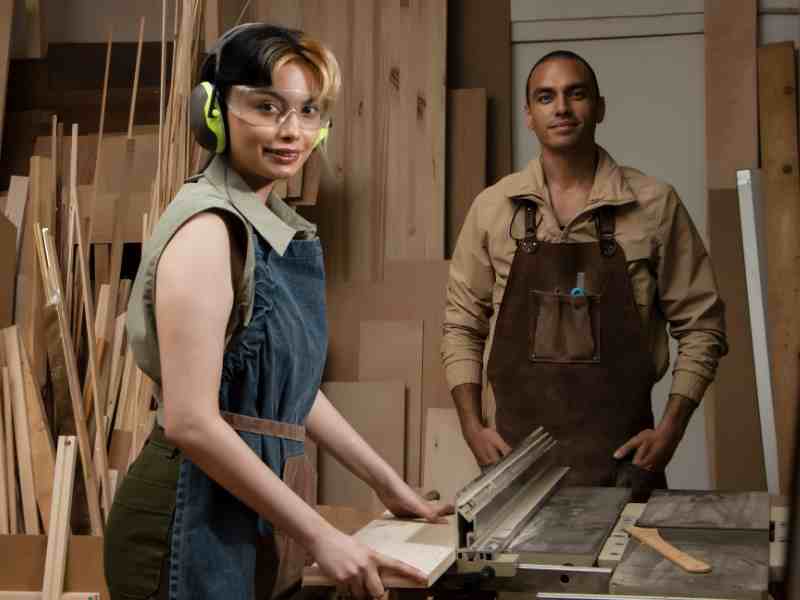 It's the most wonderful time of the year! And what's more wonderful than giving handmade gifts to your loved ones? Not only are they thoughtful and personal, but they can also save you money. Vikkie from The Carpenter's Daughter has been busy creating handmade Christmas gifts for the past month, most of which cost less than £5 to make. With her easy-to-follow tutorials and free plans, you can create unique and personalised gifts using scrap wood and basic tools. Here are 10 DIY Christmas gift ideas to get you started.
Kitchen Stool from a Dining Chair
Transform a dining chair into a kitchen stool with a pivot front leg. All you need is a dowel and basic tools, and you can make this practical and stylish gift for your culinary-loving friends and family members. Vikkie provides free plans to guide you through this project.
Page Thumb Holders
If you have someone in your life who loves to read but struggles with arthritis, page thumb holders are the perfect gift. These easy-to-make holders will help them turn the pages with ease. All you need is scrap wood and basic tools to create this thoughtful gift.
Dog Wine Bottle Holder
For your canine-loving friends, a personalised dog wine bottle holder made from scrap plywood is a great option. Vikkie shows you how to customise the tail, face, and ears to resemble the recipient's furry friend. The perfect gift for wine lovers with pets!
Cookbook Stand
A cookbook stand is a great gift idea for the foodies in your life. This stand can be personalised and painted to match the recipient's kitchen. Plus, it's functional, practical and easy to make with scrap wood and basic tools.
Bottle Caddy and Cat Bum Bottle Opener
For beer lovers or cat lovers, a bottle caddy and cat bum bottle opener are both great gift ideas. Made from MDF, nails, and magnets, these fun and quirky gifts are easy to make and will be a conversation starter at any party.
Serving Tray with Personalised Bottom
A serving tray is a versatile and practical gift that anyone would appreciate. This personalised tray has a vinyl cutter bottom, making it easy to customise to your heart's content. Scrap wood and basic tools are all you need to create this thoughtful and unique gift.
Personalised Wooden Bookmarks
Perfect for the avid reader, personalised wooden bookmarks are easy to make and inexpensive. Use a pyrography pen and cheap fancy ribbons to make this thoughtful and neat gift.
Drinko Plinko Game Board Bottle Opener
For an entertaining and fun gift, the Drinko Plinko game board bottle opener is perfect. Make the beer stagger its way down the board and have some fun with your friends and family. It's easy to make with basic tools and scrap wood.
Off-Cut Clock
An off-cut clock is a creative and unique gift that will impress anyone. Use cut-up fence posts or slices from a tree trunk to make this rustic and stylish clock. It's easy to make and will be a great addition to any home.
Guitar Bookends
For the music lover in your life, guitar bookends are the perfect gift. Use a template and self-tapping screws to create this stylish and practical present. Your friends and family will love this unique guitar-shaped gift.
Personalised Coasters
Personalised coasters are a great gift for anyone. Use Mod Podge to transfer Lino cut prints or photos onto sapele offcuts or softwood to create a thoughtful and personalised present. It's an easy project that anyone can make with basic tools and scrap wood.
These 10 handmade Christmas gift ideas from The Carpenter's Daughter are thoughtful, personalised, and easy to make with scrap wood and basic tools. Make your loved ones feel special this Christmas by creating one of these unique gifts. Don't forget to tag Vikkie on Instagram when you make any of these gifts and check out her playlist of tutorials for more inspiration.