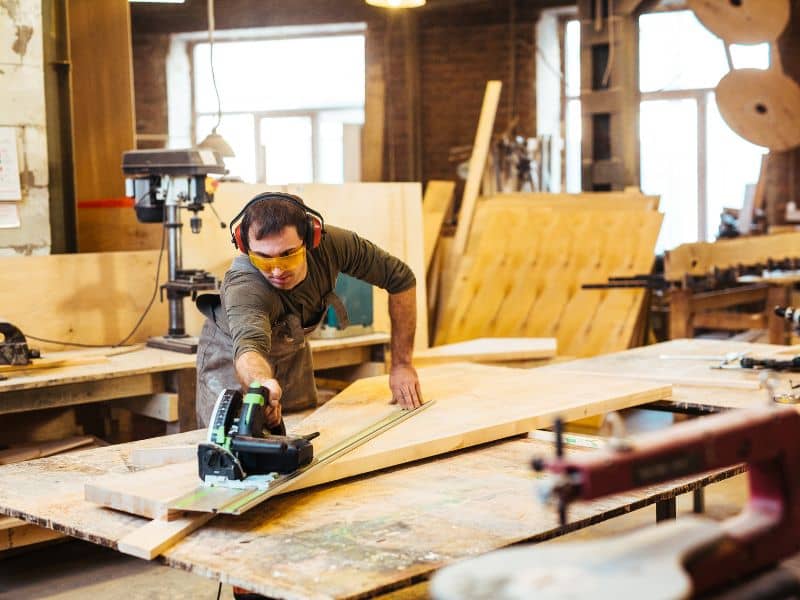 Sketching out Ideas on Paper
Woodworking plans can be a great source of income for those who have excellent woodworking skills and are able to teach those skills to others via woodworking plans. According to Travis, who runs the popular Shop Nation YouTube channel, the first step in creating high-quality woodworking plans is to sketch out your ideas on paper.

To begin with, gather the required tools. These include a pencil, paper, eraser, a ruler, and a compass. Once you have all these tools, start by sketching out your ideas on paper. Travis recommends using a dotted paper, which helps you draw lines more accurately.

As you work on drawing your design, it's important to consider the size of your final product. You want to make sure that the dimensions of your product are appropriate for its intended use, and that it will be easy to assemble and disassemble if necessary. You also need to keep in mind the materials that will be used and their limitations.

Travis suggests taking your time when sketching out your ideas. It's important to pay attention to the details, and not just the overall look of the final product. This will help you get a solid understanding of how the finished product should look like. Once you are done with the initial sketch, it's time to move on to 3D modeling software like Fusion 360.

Using 3D modeling software allows you to create a digital prototype of your product. This helps you identify and solve any problems before you start working on the physical build. The software also allows you to make changes easily, and test various versions of your design.

During the modeling process, you need to pay attention to the design's details, and ensure that it has the correct dimensions for the intended use. You also need to lay out the build plans in logical steps while including secondary operations on the stock material with some options on how to do it. The plan should include warnings and options for assembly to ensure a successful build.

Next, it's time to create a color-coded build plan that includes a comprehensive parts list, cut sheets, subparts list, and sub cut sheets. You should use visual aids with color as it's a better way to make the information easier to understand. It's essential to keep the plan concise with the text used sparingly.

Travis also suggests creating a build video to accompany the plan. The video should have an index with some resources like reference diagrams, examples of useful tools, and a few notes on troubleshooting. Finally, you can create a PDF from the PowerPoint files, which makes the plan universal.

In conclusion, sketching out your ideas on paper sets the foundation for creating high-quality woodworking plans. After designing your project on paper, move on to 3D modeling software like Fusion 360 to create a digital prototype of your product. Create a color-coded build plan that includes a comprehensive list of parts with subparts and cut sheets. Include warnings and options for assembly to ensure a successful build. Travis recommends that you create a build video to accompany the plan and use a platform like Etsy to sell your plans while incorporating some marketing tips.
Using 3D Modeling Software

After sketching out ideas on paper, the next step in creating profitable woodworking plans is to utilize 3D modeling software. This step is crucial as it allows for mistakes to be made digitally instead of in the actual product. This process also helps with fully testing the product before building. 3D modeling software provides an opportunity to visualize the product in three dimensions, which is useful in detecting possible challenges and making improvements before building the final product.

Travis recommends using Fusion 360, a popular software among woodworkers, due to its ease of use and robust capabilities. Moreover, Fusion 360 provides free licenses for hobbyists, students, educators, and startups. The software allows you to create complex parts with ease, mitigating errors, verifying dimensions, tolerances, safety factors, and optimizing these parts for performance. It also enables you to simulate specific conditions like assemblies, tests, motion studies, and animations.
When starting with Fusion 360, one can use the tutorial resources to get familiar with the software. The tutorials cover the basics of navigation, creating sketches, applying dimensions, extruding features, creating assemblies, and creating drawings to export as PDF files. Experienced woodworkers can explore more advanced features like surface modeling, parametric design options, and CAM offered by Fusion 360.
After creating a 3D model of the product, the next step is to turn it into a build plan. Travis recommends laying out the build plan in logical steps. Each step should be described in a concise fashion while also providing comprehensive details about any additional operations that need to be done on the piece of stock material. The instructions should also include appropriate warnings to ensure that the builder can execute the plan without injuring themselves. Additionally, the plan must include detailed lists of materials required to build the project.

The parts list should include the name of each piece, quantity required, and the cut required for each piece. The cut list should display the dimensions required for each component and their number. Additionally, the subparts list should describe how each part fits into the overall assembly, and the sub cut sheet should show the dimensions required to cut each subpart.

Travis recommends making the plan more understandable by using visual aids like diagrams and exploded views, which make the plan easy to follow. Coloring the plan also enhances its legibility, as color-coding can differentiate parts and specific tasks. Moreover, using images instead of text descriptions provides a better understanding of what a certain task or component looks like, leading to a successful build.
In conclusion, 3D modeling software is a key tool in developing woodworking plans that are of high quality and sellable. With its ease of use, 3D modeling software like Fusion 360 allows you to create complex parts and test the build virtually. Additionally, it aids in producing an error-free and well-detailed plan with comprehensive lists of materials, warnings, and with color-coded diagrams and visuals for better understanding. Remember to keep all instructions concise and easy to follow so that your audience will keep coming back for more.

Laying Out Build Plans and Including Comprehensive Lists
Creating woodworking plans is about more than just coming up with a concept and putting it on paper. To create a profitable woodworking plan, it's essential to provide detailed instructions that are easy to understand and follow. In this chapter, we will outline the key steps to laying out build plans and including comprehensive lists.
The first step in laying out build plans is to organize the instructions logically. The plan should begin with a list of required tools and materials, a comprehensive parts list, and a sub-parts list. This list should include any subcomponents that are necessary for the final product to function correctly. Without these lists, the builder may purchase the wrong materials or tools, leading to frustration and mistakes.
The next step is to create a detailed cut sheet that specifies the size and shape of all necessary cuts. This can be made by breaking down the final product into sections and specifying the dimensions for each section. The cut sheet should also include secondary operations on the stock material, like edge treatments or joinery, with a few options on how to do it. This will help ensure that the final product looks and performs correctly.
Travis recommends using visual aids with color to make the information easier to understand. The plan should be kept concise with text used sparingly to avoid overwhelming the builder with too much information. Providing clear, detailed diagrams that are easy to read is essential for success.
Another important element of laying out build plans is including warnings and options for assembly. The builder needs to understand any safety concerns and potential difficulties that may arise during assembly. Warnings should be highlighted throughout the instructions to ensure safety.
Finally, it's crucial to create comprehensive lists of all the necessary parts and subcomponents, making it easy for the builder to keep track of everything needed for the project. This means including a complete parts list, subparts list, and subcut sheets. The subcut sheets should identify the specific cuts needed for each part, making it easy to stay organized during the build.
Travis suggests creating a build video to accompany the plan, allowing builders to see each step in action. Moreover, an index with useful tools and resources like reference diagrams or tips can be invaluable. Once the instructions are complete, Travis recommends creating a PDF from the powerpoint files to make the plan universal.
In conclusion, laying out build plans is critical to creating a successful woodworking plan. By organizing instructions logically, creating comprehensive cut sheets and parts lists, and including warnings and options for assembly, you can produce woodworking plans that builders will be eager to purchase.
Selling Woodworking Plans on Etsy and Marketing Tips
Creating high-quality woodworking plans is only half the battle; the other half is getting them in front of potential buyers. In this chapter, we will go over the ins and outs of selling your woodworking plans on Etsy and some marketing tips to help you reach a bigger audience.
Selling Your Plans on Etsy
Etsy is one of the best platforms for selling digital products like woodworking plans, as it has a large and engaged audience that is interested in handmade and DIY projects. Setting up a shop on Etsy is relatively straightforward, but there are a few things to keep in mind to make sure your plans stand out.
Firstly, make sure to optimize your listing with a clear, informative title and detailed keywords that describe what your plan is and what it includes. Use high-quality images and visual representations of your plans to make them more appealing, and include a detailed description that accurately conveys what the customer can expect when they purchase your plan.
Next, consider offering a sample or preview of your plan so that potential buyers can get a sense of what they'll be getting. This can be a small excerpt, an image of the finished product, or even a video that shows how the plan is meant to be used.
Finally, make sure to price your plans in a competitive range that reflects their value and the amount of work you put into them. Do some research on other woodworking plans on Etsy to make sure you're pricing your plans fairly and competitively.
Marketing Your Plans
Once your plans are on Etsy, it's time to start marketing them to get them in front of potential customers. Here are some tips to keep in mind: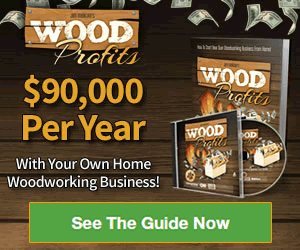 Build a Website
Having a website that showcases your woodworking plans is a great way to establish credibility and give people a place to go to learn more about your offerings. Use your website to show off your best work, offer tips and tricks, and even include an online shop where people can purchase your plans.
Social Media
Social media is a great way to reach a large and engaged audience. Choose the platforms that resonate best with your target audience and use them to share images, videos, and behind-the-scenes glimpses into your woodworking process. Remember to use relevant hashtags, engage with your followers, and share your new plans as they become available.
Build an Email List
Email marketing is one of the most effective ways to reach potential customers and keep them informed of your latest offerings. Offer an incentive (like a free plan or exclusive content) for people who sign up for your email list and use it to keep them engaged over time with updates and promotions.
Partner with Influencers
Partnering with woodworking influencers who have an engaged following can be a great way to get your plans in front of new audiences. Reach out to influencers in your niche and offer to provide them with a free plan in exchange for a review or promotion to their followers.
In Conclusion
Creating and selling woodworking plans on platforms like Etsy can be a profitable venture, but it requires more than just putting up a listing and hoping for the best. By optimizing your listings, establishing a web presence, and using marketing channels to extend your reach, you can build a successful business selling plans to those interested in woodworking. Happy selling!