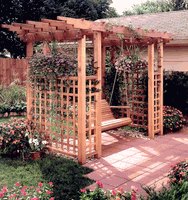 Garden arbors allow support for climbing plants, shade the weary gardener in the heat from the day, and may offer an entrance for your secret garden. Garden arbors and pergolas are also the right backdrop for picture taking events like friendly get-togethers. Some plants which will function nicely with garden arbors are roses, ivy, clematis, grapes, hops and wisteria. In the event you wish to construct a garden arbor for your self, we've listed below a number of websites that provide garden arbor plans which will make your garden arbor project simpler than beginning from scratch. Building a garden arbor can make to get a easy weekend project. A garden arbor project can also be a indicates of high quality family time and also the arbor is certain to become a location about which memories are produced. The majority of these free arbor plans need minimal woodworking abilities. Some power tools might be needed to construct a couple of from the free garden arbor plans listed below.
Garden Arbor


These easy to follow instructions come complete with pictures accompanying each step.

Gourd Arbor


A Gourd Arbor will create definition and at the same time integrate the area with the rest of the yard.

Bench Arbor Plans
The freestanding 60-inch-wide, 30-inch-deep, 86-inch-high structure has a number of subtle features that add to its appearance, strength, and comfort.

Arched Rose Arbor
The dimensions of this free standing Cedar rose garden arbor will be determined by the width of the walkway it traverses.

Rose Arbor
A cedar latch arch supports climbing plants; a great project for any carpenter.

Arbor
Step-by-step instructions on how to build an arbor with pitched rafters. Adds that final touch to your yard.

Designing and Building an Arbor
An arbor can grace a garden pathway, hide a neighbor's home or house your front gate.

Garden Arbor
Building small garden arbors is an easy do-it-yourself project and cheap, too.

Garden Arbor
Here are complete instructions for an easy to build and inexpensive Garden Arbor.

Garden Arbor 3D
You can paint it, or simply apply a sealer stain to this easy to build Garden Arbor.

Grape Arbor
A sturdy arbor with a painted on patina finish to give it an aged, Mediterranean look.

Arched Arbor
The tall wood arbor in this project features a cross-hatch lattice design on the sides and a graceful curved arch overhead.

Arbor Conversation Nook
A simple structure is just one more way that Cedar can make your great outdoors an even nicer place to be.

Swing Arbor
A swing arbor is a beautiful addition to any landscape and provides you with an inviting place to sit and visit with friends.

Entry Arbor
This arbor is designed to be very sturdy and complements any landscape.

Build an Arbor
Choose a construction material to fit your style and budget when building this arbor.

Arbor/Trellis
Instructions on how to build a old fashioned arbor/trellis. It will look great in your yard. Adjust measurements to fit your requirements. Measures 44 in. wide opening x 84 in. high opening x 26 in. deep.

Arbor out of Wood Arches
Make it an afternoon with ready made and pre-painted pieces to build your very own arbor. This project can be completed in less than five hours. Each arch has cozy seating inside too.