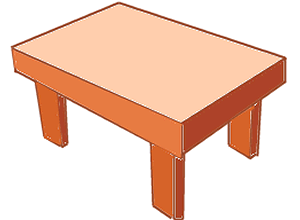 Specialty tables can be costly and difficult to discover. Construct your own with free table plans and get just what you would like, at a cost you are able to afford. Use the materials that greatest suit your objective and spending budget for an inexpensive and attractive custom table.
Use free table plans to construct a number of designs from a masseuse table or perhaps a foldable card table to a microwave oven cart.
Some plans need much more skill and special tools. Choose a plan you are able to complete with self-confidence. Select a model and style which will complement your house and way of life. Add your personal special trims, molding and paints to get a decorator touch, or perhaps a durable finish for heavy-duty use.
A Basic Coffee Table Project. This 2ft x 4ft coffee table is a revamp of one of our earlier BuildEazy projects. Dimensions in both imperial and metric.
The Cedar Block Coffee Table. It can be a side table or an end table. This coffee table is designed with the home handyman in mind. It is both easy to build and is very sturdy. Dimensions in both imperial and metric. It is 14 3/4″ (370mm) high, 28 inches (700mm) long and 21 inches (630mm) wide.
1200mm x 600mm (2ft x 4ft) Lounge-room coffee table. This project, as with other BuildEazy projects, is designed with the home handyman or DIYer in mind. Joints that might require the expertise of a more seasoned woodworker are non-existent. Instead, all joints are secured with bolts and/or screws and maybe a bit of glue In both metric and inches.
Butcher Block / Microwave Oven Table
Build a butcher block table that has coasters for ease of moving and cubby holes underneath for storing cooking items.
This table collapses in the middle and folds up flat for easy storage. Build this table that is big enough when needed and small enough to fold and store out of the way.
Plans for a creative and colorful kids table with corner chairs that provide under the seat storage.
This round table folds away easily and seats four people. With its lovely harp shaped support and sleek detailing it has a stylish flair while being easily stored away when not in use.
Customizing a Stretcher Base Table
This article shows how stock components were easily modified to get custom results. The table base was created by making two assemblies, the legs and aprons form one, and the base stretcher is the second.
This plan uses two cabinets that support a plastic laminate table top for an awesome craft table.
Coffee Table with Built -In Storage
Clear the mess with this do-it-yourself project plan for a coffee table with built-in storage space.
These plans show you how to build two matching modular glass-top coffee tables, which can be arranged to one large table.
Due to its solid materials and rugged construction, this wood coffee table will stand the test of time.